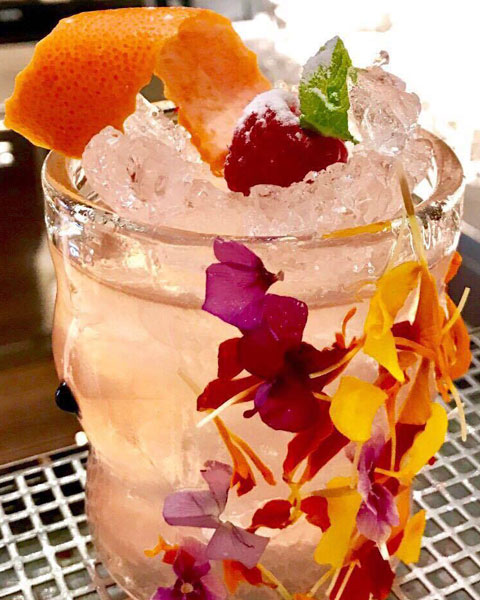 A cocktail that primarily reflects Trentino, but also a bit of South America and Venice. It was created by the barman Lucas Kelm, 28, who was born in Argentina, but grew up in the province of Treviso. "I started to develop a fondness for this profession at the age of 16 in my parents' restaurant. In 2015 I went to Spain to broaden my knowledge and get to know new trends. I spent two years between Ibiza and Barcelona, attending training courses and mixing drinks, a job at the Hilton Hotel and the company of many colleagues and friends. And now here I am in Venice, since last February, working as the bar manager di AMO".
Situated at the foot of the Rialto Bridge, inside the historic T Fondaco dei Tedeschi building, AMO is the result of a partnership between the Alajmo brothers (a famous name in the restaurant trade) and the designer and architect Philippe Starck. Everything about the place is imbibed with Venice, with its vibrant luxury and the versatility of the food and wine on offer: the morning starts off with the café and pasticceria before moving on to lunch and then finally to dinner with the menu devised by Max Alajmo, the chef of the 3-Michelin-starred Le Calandre restaurant in Sarmeola di Rubano (Padua). Signature cocktails are also on offer, to enjoy at any time of day, such as the one that Lucas has created based on Schiava Gentile Trentino DOC from Cavit.
"It's called Don Trentito: to create it I drew inspiration from the organoleptic features of its main ingredient, Schiava Gentile Trentino DOC, which gives its some backbone and a pleasant dry aftertaste. The pink grapefruit juice and bitters lend the drink crispness, while lemon juice and chilli pepper syrup create a balance of flavours with a touch of heat that gives the drink character". Don Trentito is an ideal aperitif cocktail, but also an excellent accompaniment to vegetable, fish and soft cheese dishes.
Before we even tasted it, we were taken aback by the beautifully decorated glass:
"It's a tribute to Trentino and the memories of wonderful summer hikes amidst the natural colours of the mountains". This cocktail cannot help but make you smile when you see it and taste it, precisely because it's made with so much passion: "Don't ask me how I'm doing: if you see me behind a bar, then you know I'm happy".
Ingredients
60 ml Bottega Vinai Schiava Gentile Trentino DOC
25 ml pink grapefruit juice
2 dashes pink grapefruit bitters
1 bar spoon lemon juice
15 ml chilli pepper syrup (to make this leave 5g dried chilli peppers opened in 500 ml water overnight in the fridge, then filter and add half a kilo of sugar)
Soda to top up