Sustainability
In Trentino, sustainability and protection of the environment have long been keystones of the local culture. When the quality of the land is of vital importance, this sense of responsibility is even more essential.
For more than two decades Cavit has adhered to the "Protocol for the production of high-quality grape vines in Trentino"¹, marking its commitment to fully sustainable agriculture.
Renewable Energy
In addition to using only green energy, Cavit has made major investments aimed at reducing energy consumption.  The company has built three photovoltaic generators² that produce part of its energy requirements from renewable sources, significantly reducing CO2 emissions.  Cavit is firmly committed to the maintenance and continuous improvement of systems like this one.
Certification
Cavit has obtained numerous certifications, all renewed regularly:
– UNI EN ISO 9001:2015
– BRC (Global Standard for Food Safety – British Retail Consortium)
– IFS (International Food Standards)
– UNI EN ISO 14001:2015 – Environmental Management systems
– UNI ISO 45001: 2018 – Occupational Health and Safety Management system
– Certification Bio-food production
– Certification AEO – Authorized Economic Operator
– Adhesion to the Protocol for the production of high-quality wines in Trentino (more than 20 years)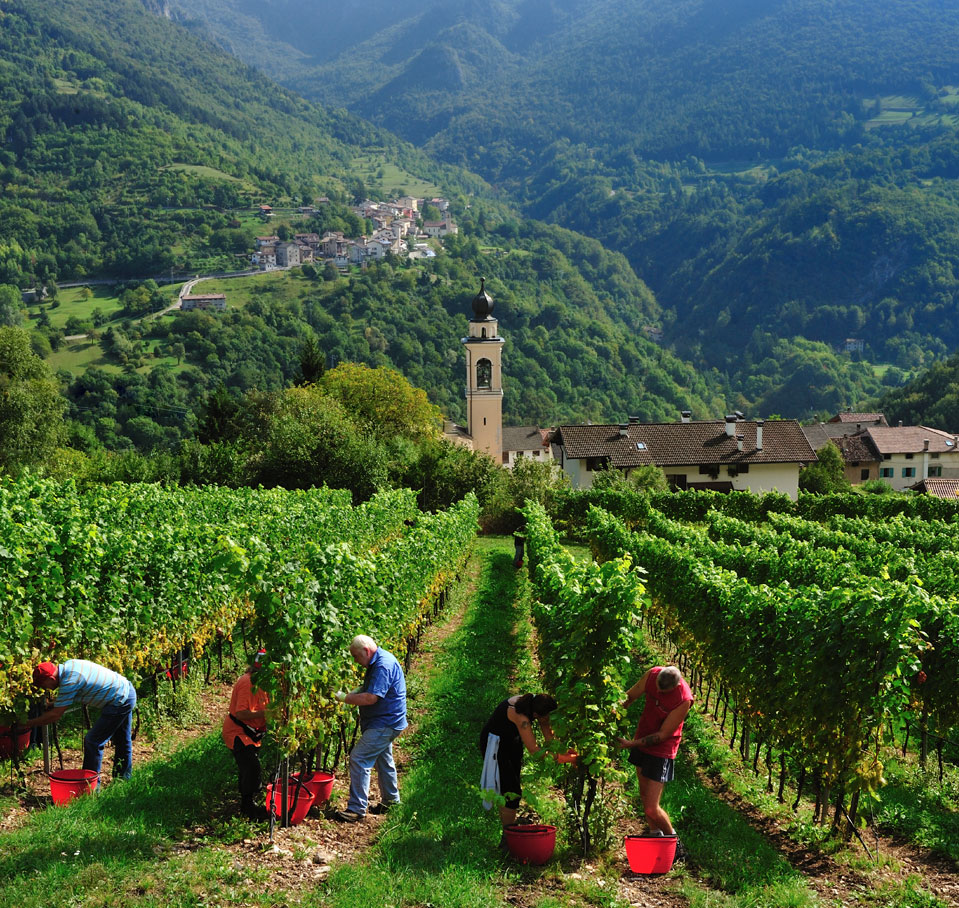 PICA: AN INNOVATIVE
TECHNOLOGICAL SYSTEM
PICA, which is an abbreviation of Integrated Agricultural and Wine-Producing Cartographic Platform (Piattaforma Integrata Cartografica Agriviticola) is the result of a research project conducted by Cavit in collaboration with MPA Solutions and two leading research centres in Trentino: the Edmund Mach Foundation (FEM) and Bruno Kessler Foundation (FBK).  PICA focuses on two main areas of the winemaking process.   Firstly, helping identify the most suitable grape varieties for the vineyard site, based on the technical and environmental parameters of the soil.  And secondly involving the creation of an avant-garde system in which agronomists³ and winemakers can receive specific information concerning each vineyard and the various phases in the cultivation of the vines.  In practice, waste is eliminated, and the grower has total control.  This innovative system also makes it possible to regulate the water supply according to the characteristics of the soil and the weather conditions.  The main purpose of PICA is to help the grower achieve total sustainability.
After a long period of evolution and continuous investment into research and development, PICA is now a highly developed farming model.  Under the skilled direction of Andrea Faustini, winemaker, co-ordinator, and scientific head of Cavit, the PICA project is today implemented by a team of specialist, in-company trained agronomists.  Together they form Cavit Viticulture Group, which is a dedicated internal department that, amongst other things, assists winegrowers with pest control in their vineyards to enable them to achieve better yields.  Trentino's experienced and expert winegrowers therefore benefit from the support of scientific tools and objective data, which enable them to put into practice smart, highly developed and completely sustainable viticultural techniques.
The PICA project received the SMAU 2021 Innovation Award.
1 The 'Protocol for the production of high-quality grape vines in Trentino' has been set by the 'Trentino Wines Consortium' which defines the production rules in the area. It has recently been incorporated into the National Quality System of Integrated Production (SQNPI).
2 A PV Generator is an electric power system designed to supply usable solar power by means of photovoltaics. It consists of an arrangement of several components, including solar panels to absorb and convert sunlight into electricity.
3 An expert in the science of soil management and crop production