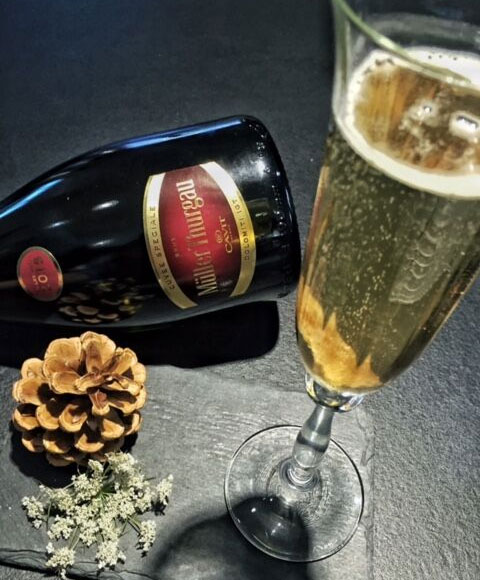 Debora Tarozzo defines what exists between herself and her profession – bartender – as a love story: a chance encounter whilst thumbing through a magazine, then the deliberate choice to make it her future profession. "It immediately became a passion (to the extent that I couldn't sleep at night when I was competing); today, after many years, the love has remained. There have been difficult but also wonderful times, outstanding successes and hopes, and just as many disappointments and defeats. It's not just a profession, it's Me".
A person and professional with such passion could not disappoint us: what she has created for us is an all-Trentino drink that Debora has decided to call Mother Nature. "The cocktail is one of my re-interpretations of the Champagne Cocktail – she explains – one of the most famous and elegant drinks in history. But it's more than that: Mother Nature is a tribute to Trentino, to the land all around me and its products, everyday sources of inspiration for me that I can study and use in my mixes".
In this drink, the harmonic smoothness of Pinot Noir grappa, with its hints of vanilla and wood combined with berries and amarena cherry, blends with the elegant, aromatic freshness and delicate spicy notes of Cavit's Müller Thurgau Cuvée Speciale, which replaces the Cognac and Champagne. The Alpler herbal bitter, Zirbel liqueur and Söcher Amar on the other hand impart the right balance between sugar and the grassy, resinous, balsamic and bitter notes, so they take the place of the Angostura bitters.
"Personally I would define it as an "all day cocktail": it can be drunk at any time of day, as an aperitif or for special occasions that call for a toast. In any case, it should not be used to accompany dishes that are too spicy or particularly fatty, but more delicately flavoured foods".
You will find Debora Tarozzo at the Posto Pubblico winebar in Brescia https://www.facebook.com/Posto-Pubblico-350712331706310/ where she is bartender and manager of the mixing department alongside the proprietor Michele Loda and chef Riccardo Scalvinoni. "This work spurs me on to complete my studies as a sommelier, also I'm happy to work with customers who love good wine, with whom I can experiment new creations." For two years she has also been co-manager with her business partner Luca De Simone of BEMIX-Beverage Catering http://www.bemix.it/ and contributes to various magazines including 'Bartender' and 'Ristoranti'. "I love what I do: it makes me feel complete, it allows me to express my creativity, travel, meet special people and I never get bored because I never stop learning. I was born to do this work and every morning I wake up feeling privileged because I have the best job in the world".
Ingredients
9 cl Cavit Müller Thurgau Cuvée Speciale Millesimato (elegant, smooth semi-sparkling full of character)
1 cl Roner Vintage Edition grappa
1 cube Söcher Amar di Bagolino (bitter sugar typical of Valsabbia made from herbs gathered by hand)
1 drop Roner Alpler herbal bitter (a bitter recreated to an 19th century peasant recipe)
1 drop Roner Zirbel (stone pine liqueur made from pine cones gathered by hand at an altitude of 1500 m)
Preparation
Soak the bitter sugar cube with the Zirbel liqueur and Alpler bitters and place it on the bottom of a chilled flûte. Pour in the reserve grappa and top up with Cavit's Müller Thurgau Cuvée Speciale Millesimato.
Decorate with wild flowers and a pine cone sprayed with Swiss mountain pine aromatic water. Serve.