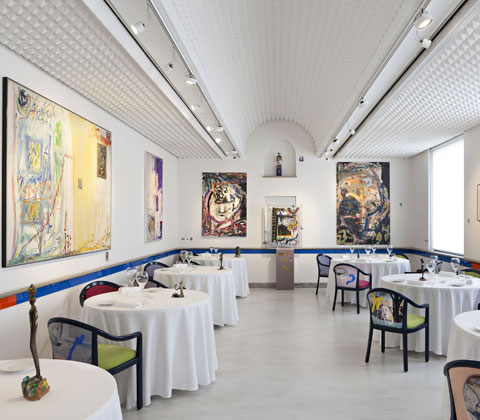 Milan, Il Luogo di Aimo e Nadia: so much more than just a restaurant, Il Luogo (The Place) reflects the people who created it and those who run it on a daily basis; fifty years of history, and two young chefs at the stove (Fabio Pisani and Alessandro Negrini); art in the dishes and in the pictures on the walls, sculptures on the tables and in the corners of the dining room; member of the Relais&Chateaux association, then two Michelin stars; an "Italian" cuisine by definition, simple but refined, where the same attention paid to sourcing the raw materials is reserved for the choice of the best wine possible.
So, for example, the perfect match to Tortelli Filled with Ossobuco of Piedmontese Veal and its marrow with a reduction of its stock, Sardinian saffron and parmigiano (one of the dishes on the sampling menu or the first item on the à la carte menu) is a bottle of Lagrein, a wine that catches your eye with its deep ruby red colour and then inebriates you just before the first sip with its berry notes and, for the most refined noses, a slight hint of vanilla.
Ingredients
Ingredients for 4 serves:
300 g fresh egg pasta
For the filling
200 g ossobuco (without the marrow) of Piedmontese veal
10 g marrow
5 g onion
10 g celery
8 g carrot
20 g spelt bread
1 sprig of rosemary
nutmeg
20 g extra virgin olive oil
For the sauce
30 g butter
50 g grated parmigiano cheese 28 months
0.10 g  Sardinian saffron strands
200 ml vegetable stock
whole sea salt
Preparation
For the filling
Prepare a mirepoix of carrot, celery and onion. Braise the ossobuco meat with the mirepoix and oil for about two hours. Cut the meat into small pieces and put the cooking liquid to one side.
In a saucepan mix the meat with the bread moistened with a part of the cooking liquid on a low heat, adding a small amount of nutmeg and the rosemary. Remove from the heat, cool, then add the bone marrow. Adjust for salt.
Roll out the pasta, then form 20 candy-shaped ravioli.
For the sauce
In a pan soften the butter, add the parmigiano cheese and mix together with the vegetable stock. Divide the sauce into two parts, leaving one as it is and adding the saffron strands to the other.
Boil the ravioli in salted water, arrange on the plate and finish off with the parmigiano sauce, the saffron sauce and the ossobuco stock reduction.