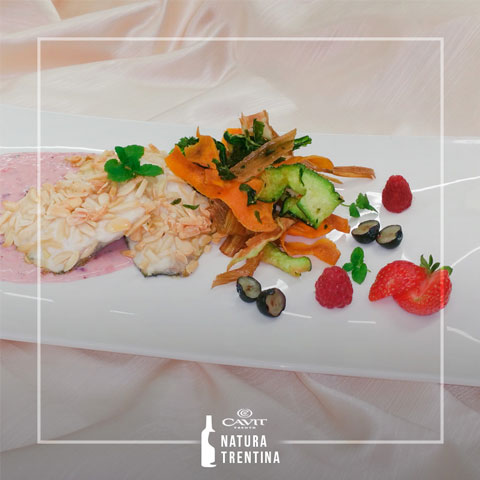 The local cuisine reigns supreme along with Italian dishes in the restaurant of Villa Madruzzo in Trento. The 4-star Villa Madruzzo hotel is named after one of the most prominent families in Trentino, which included the bishop Cristoforo Madruzzo, who used it as his summer residence. Dishes here are passionately revisited, with a focus on light cooking methods and carefully selected raw materials.
Just as an example to tempt your taste buds, the chef serves the Arctic char, one of the typical local dishes, in an almond crust with a smooth berry sauce and crispy vegetables.
Nothing can beat, weather permitting, savouring this dish on the restaurant's terrace looking out over centuries-old pines and firs (including an approximately 400 year old cedar of Lebanon), without forgetting of course to accompany the recipe with an excellent glass of wine from the cellar, which stocks the best labels, as well as grappas and distillates produced in the Region and plenty more.
To accompany this dish, the restaurant recommends an Altemasi Trentodoc Rosé with its complex nose of ripe cherry, currants and red apple, balanced palate and persistent aftertaste; or with a Bottega Vinai Nosiola Trentino DOC, a dry, crisp wine, floral in character, with fruity apricot and green apple notes.
Slice of Alpine Char with Almonds on a Smooth Mint-flavoured Berry Sauce
and Crispy Vegetable Strips
Ingredients
4 fillets Arctic char
70 g sliced peeled almonds
100 g Sant'Orsola berries
Peppermint
Garda Extra Virgin Olive Oil
Carrot, green celery, leek, curly parsley, basil, potatoes
Preparation
Wash and peel the potatoes and cut into small cubes. Drizzle some Garda extra virgin olive oil into a small pan, add the potatoes and berries and cover with vegetable broth. Bring to a boil, cook, then emulsion with Garda extra virgin olive oil and peppermint.
Cut the Arctic char fillet into in 3 pieces, dust with flour and roll in the sliced almonds. Bake in the oven at 170°C for 6-7 minutes.
Wash the carrots, celery, leek, curly parsley and basil then cut all these into thin strips with the aid of a potato peeler; dust with flour and deep fry.
Form a bed of emulsion on a plate, arrange the char and the thin strips of crispy vegetables on top. Garnish with berries.